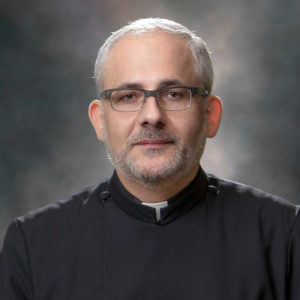 Rev. Fr. Hovhan Khoja-Eynatyan was born in Yerevan, Armenia, where he pursued a career in music. He holds bachelors and master's degrees in music from the Komitas State Conservatory in Yerevan, and the Maimonides State Conservatory of Moscow, Russia. Fr. Hovhan has been a member of the Armenian Philharmonic Orchestra, the Pekarsky Percussion Ensemble, and the Moscow Modern Music Ensemble, and has taught at the Yerevan conservatory and the Spendiarov School of Music.
In 1999, he moved with his family to the United States. He served for many years as an organist and conductor at St. Mary Armenian Church in Washington, DC, and in 2000 he founded the church's well-known Narek Bell Choir.
It was during his time at St. Mary Church that Fr. Hovhan first heard God's call to serve the church as an ordained priest. At the encouragement of Archbishop Khajag Barsamian, he began taking courses at Catholic University of America in Washington, and in 2008 he enrolled at St. Nersess Armenian Seminary in New Rochelle, N.Y.
He was ordained to the diaconate in August 2008. In May 2010 Fr. Hovhan graduated from the Medzn Nersess (St. Nersess the Great) Program of St. Nersess Seminary- two-year program specially designed for students who enter seminary with advanced standing, and was ordained to the Holy Priesthood on July 11, the Feast of Transfiguration of our Lord.
In January 2011 Archbishop Khajag Barsamian assigned Fr. Hovhan as pastor of St. James Armenian Church (Evanston, IL).
In December 2021 with pontifical blessings of His Holiness Karekin II, Supreme Patriarch and Catholicos of All Armenians, Fr. Hovhan has been bestowed the privilege of wearing a Pectoral Cross (lanchakhach).
Fr. Hovhan is married to Yn. Narine. They are blessed with two children, Tatevik and Alexander, and two grandchildren Lilit and Davit.